, TU-KA
KDDI is the company, au the telecom provider or carrier, and EZweb was the mobile web service (like i-mode).
Overview images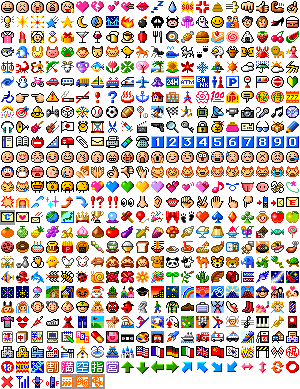 A, 175 monochrome emojis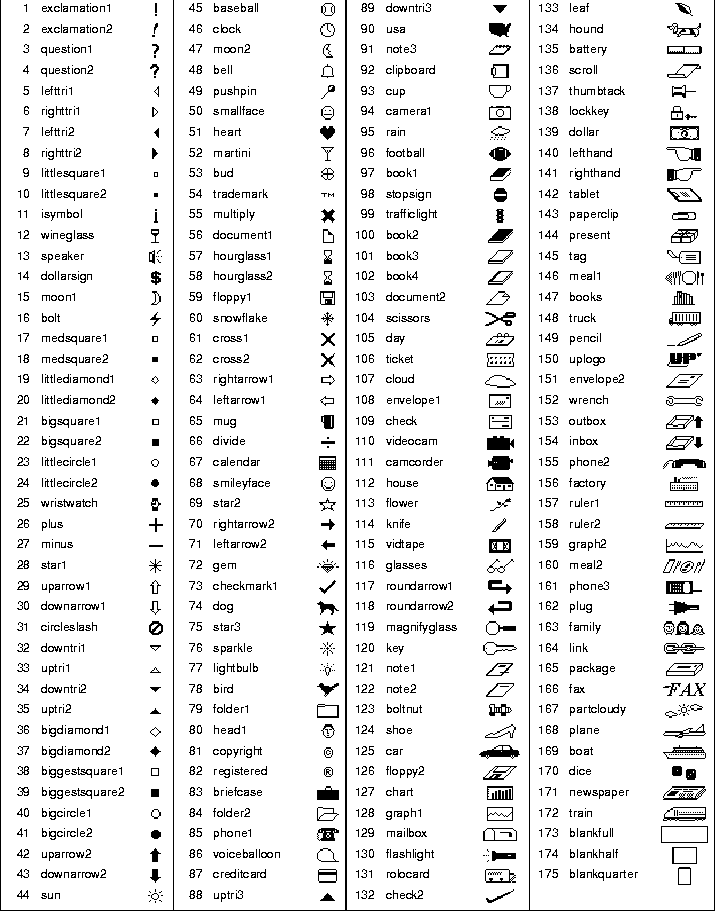 B, 175 colorful emojis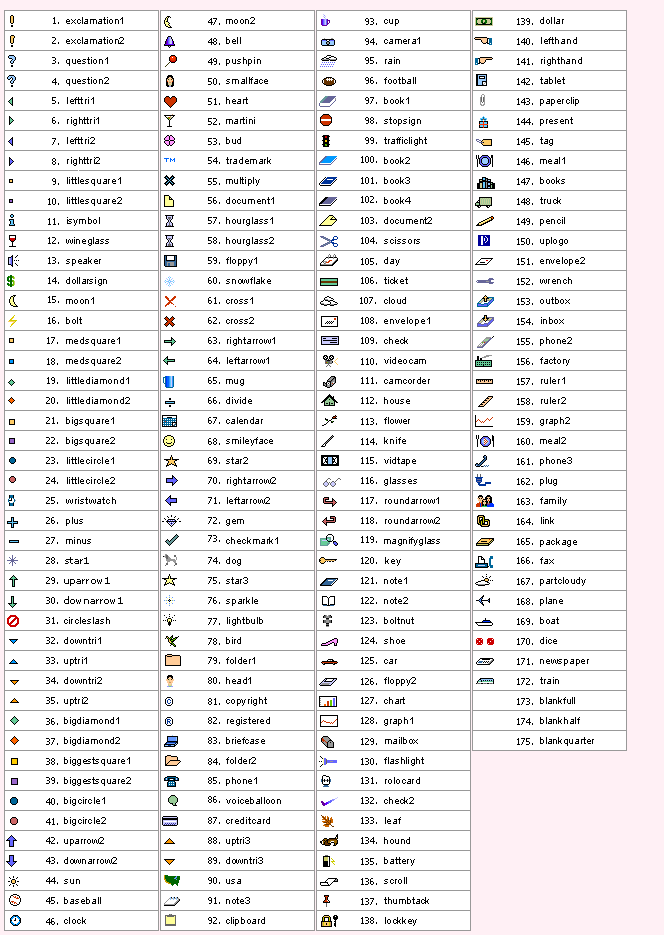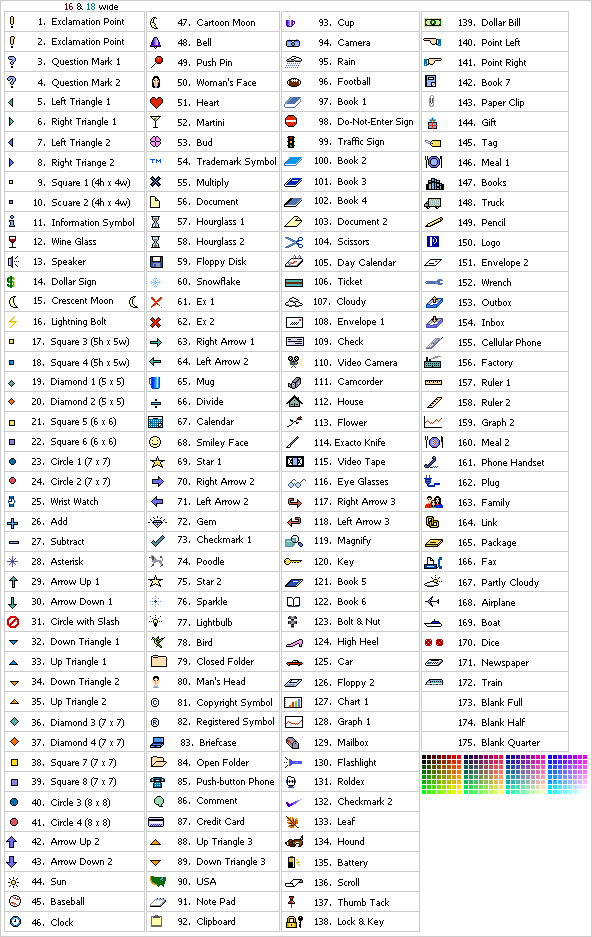 C, 330 standard emojis plus 23 in WAP extension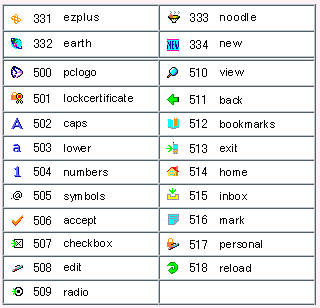 D, 647 emojis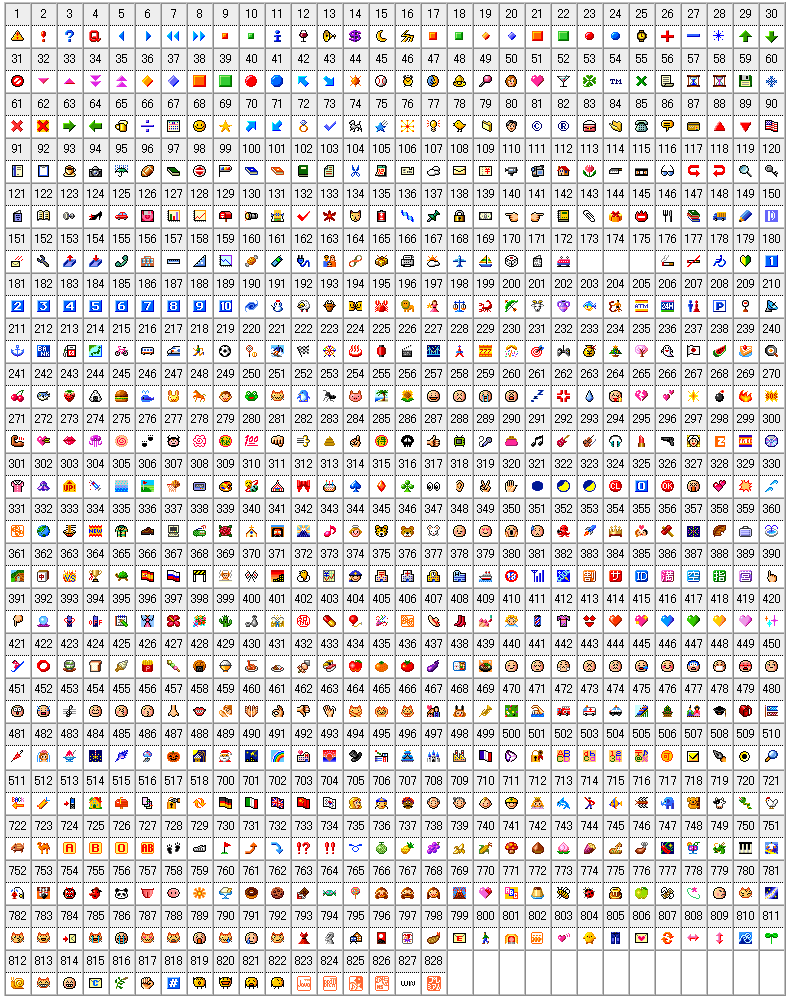 All four sets in parallel columns: A, B, C, D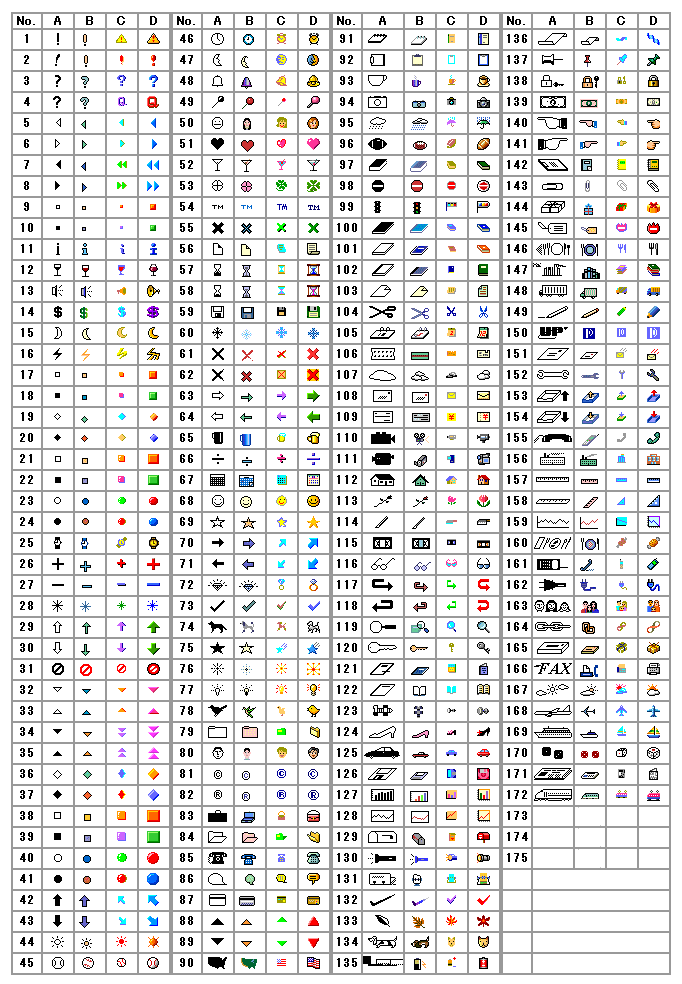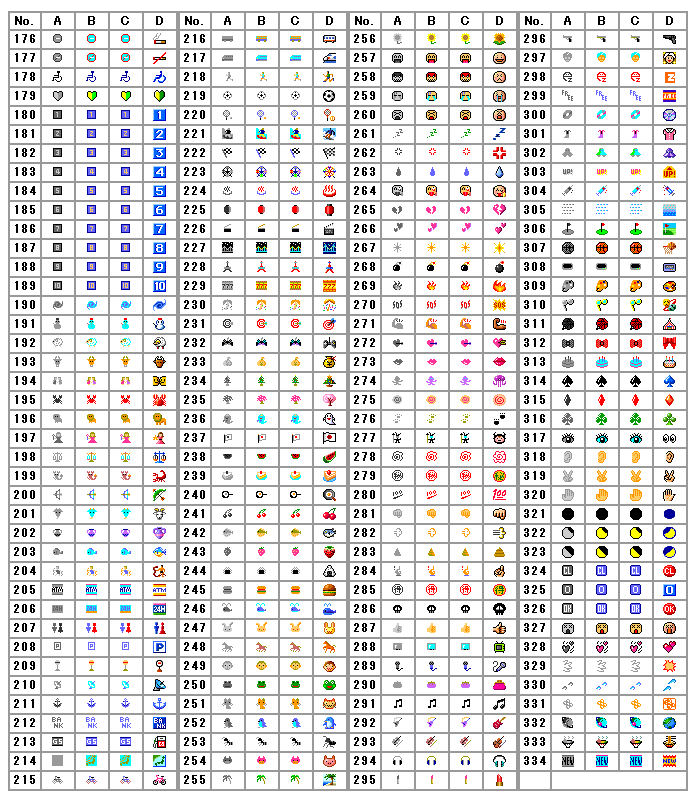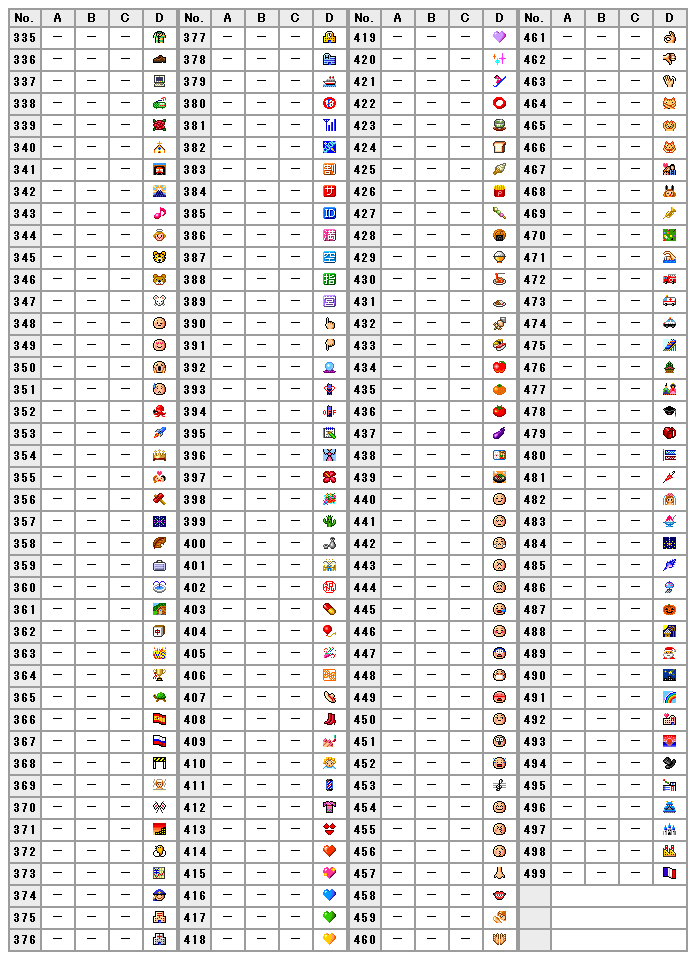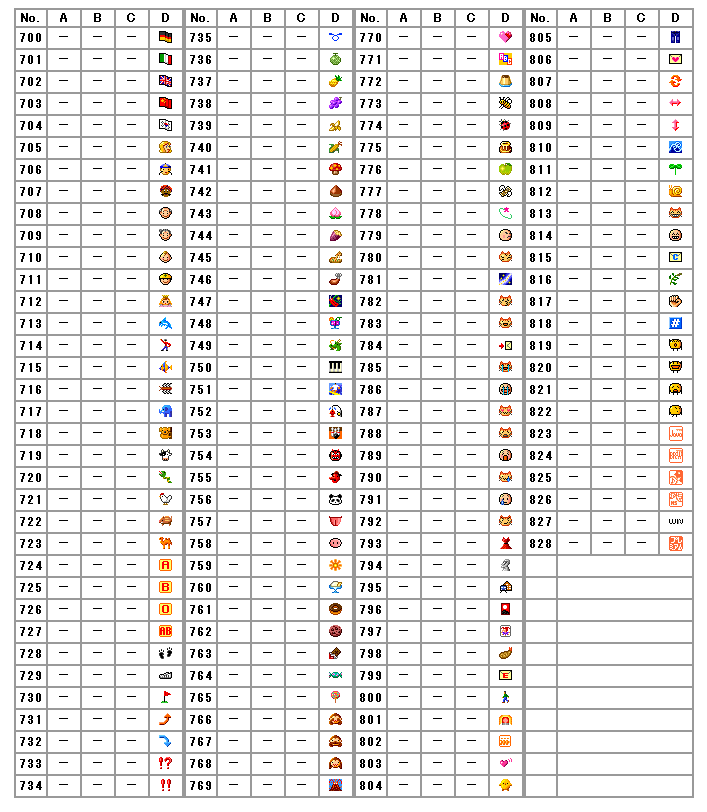 Sources:
Names
B A/C
Exclamation Point 1 exclamation1
Exclamation Point 2 exclamation2
Question Mark 1 question1
Question Mark 2 question2
Left Triangle 1 lefttri1
Right Triangle 1 righttri1
Left Triangle 2 lefttri2
Right Triangle 2 righttri2
Square 1 littlesquare1
Square 2 littlesquare2
Information Symbol isymbol
Wine Glass wineglass
Speaker speaker
Dollar Sign dollarsign
Crescent Moon moon1
Lightning Bolt bolt
Square 3 medsquare1
Square 4 medsquare2
Diamond 1 littlediamond1
Diamond 2 littlediamond2
Square 5 bigsquare1
Square 6 bigsquare2
Circle 1 littlecircle1
Circle 2 littlecircle2
Wrist Watch wristwatch
Add plus
Subtract minus
Asterisk star1
Arrow Up 1 uparrow1
Arrow Down 1 downarrow1
Circle with Slash circleslash
Down Triangle 1 downtri1
Up Triangle 1 uptri1
Down Triangle 2 downtri2
Up Triangle 2 uptri2
Diamond 3 bigdiamond1
Diamond 4 bigdiamond2
Square 7 biggestsquare1
Square 8 biggestsquare2
Circle 3 bigcircle1
Circle 4 bigcircle2
Arrow Up 2 uparrow2
Arrow Down 2 downarrow2
Sun sun
Baseball baseball
Clock clock
Cartoon Moon moon2
Bell bell
Push Pin pushpin
Woman's Face smallface
Heart heart
Martini martini
Bud bud
Trademark Symbol trademark
Multiply multiply
Document document1
Hourglass 1 hourglass1
Hourglass 2 hourglass2
Floppy Disk floppy1
Snowflake snowflake
Ex 1 cross1
Ex 2 cross2
Right Arrow 1 rightarrow1
Left Arrow 21 leftarrow1
Mug mug
Divide divide
Calendar calendar
Smiley Face smileyface
Star 1 star2
Right Arrow 2 rightarrow2
Left Arrow 2 leftarrow2
Gem gem
Checkmark 1 checkmark1
Poodle dog
Star 2 star3
Sparkle sparkle
Lightbulb lightbulb
Bird bird
Closed Folder folder1
Man's Head head1
Copyright Symbol copyright
Registered Symbol registered
Briefcase briefcase
Open Folder folder2
Push-button Phone phone1
Comment voiceballoon
Credit Card creditcard
Up Triangle 3 uptri3
Down Triangle 3 downtri3
USA usa
Note Pad note3
Clipboard clipboard
Cup cup
Camera camera1
Rain rain
Football football
Book 1 book1
Do-Not-Enter Sign stopsign
Traffic Sign trafficlight
Book 2 book2
Book 3 bokk3
Book 4 book4
Document 2 document2
Scissors scissors
Day Calendar day
Ticket ticket
Cloudy cloud
Envelope 1 envelope1
Check check
Video Camera videocam
Camcorder camcorder
House house
Flower flower
Exacto Knife knife
Video Tape vidtape
Eye Glasses glasses
Right Arrow 3 roundarrow1
Left Arrow 3 roundarow2
Magnify magnifyglass
Key key
Book 5 note1
Book 6 note2
Bolt & Nut boltnut
High Heel shoe
Car car
Floppy 2 floppy2
Chart 1 chart
Graph 1 graph1
Mailbox mailbox
Flashlight flashlight
Rolodex rolocard
Checkmark 2 check2
Leaf leaf
Hound hound
Battery battery
Scroll scroll
Thumb Tack thumbtack
Lock & Key lockkey
Dollar Bill dollar
Point Left lefthand
Point Right righthand
Book 7 tablet
Paper Clip paperclip
Gift present
Tag tag
Meal 1 meal1
Books books
Truck truck
Pencil pencil
Logo uplogo
Envelope 2 enevelope2
Wrench wrench
Outbox outbox
Inbox inbox
Cellular Phone phone2
Factory factory
Ruler 1 ruler1
Ruler 2 ruler2
Graph 2 graph2
Meal 2 meal2
Phone Handset phone3
Plug plug
Family family
Link link
Package package
Fax fax
Partly Cloudy partcloudy
Airplane plane
Boat boat
Dice dice
Newspaper newspaper
Train train
Blank Full blankfull
Blank Half blankhalf
Blank Quarter blankquarter
smoking
nosmoking
wheelchair
youngleaf
1square
2square
3square
4square
5square
6square
7square
8square
9square
10square
typhoon
snowman
aries
taurus
gemini
cancer
leo
virgo
libra
scorpio
sagittarius
capricorn
aquarius
pisces
ophiuchus
atm
24hours
toilet
parking
busstop
antenna
harbor
bank
gasstation
map
bicycle
bus
superexpress
marathon
soccer
tennis
snowboard
checkerflag
amusementpark
hotspring
bistro
movie
nightbridge
tower
slot
decoratedball
dart
controller
win
christmastree
cherryblossom
ghost
flag
watermelon
cake
pan
cherry
globefish
strawberry
riceball
hamburger
whale
rabbit
horse
monkey
frog
cat
penguin
ant
pig
coconut
sunflower
face1
face2
face3
face4
sleepy
anger
drip
kidding
heart2
heart3
sparkle2
bomb
fire
sos
power
heart5
kissmark
alien
fishcake
footmark
devil
flowercircle
secretsign scecretsign
fullmarks
punch
dash
bigjob
firstfingersign
profitsign
skeleton skeelton
thumbsign
tv
microphone
wallet
melody
guitar
violin
headphone
rouge
action
estheticsalon
ezmark
freesign
cd
ladiesfashion
ufo
up
syringe
mist
golf
basketball
pager
art
drama
event
ribbon
birthday
spade
diamond
clover
eye
ear
peacesign
openfinger
moon3
moon4
moon5
clear
0square
okay
face5
lovely
impact
sweat
ezplus
earth
noodle
new
---
pclogo
lockcertificate
caps
lower
numbers
symbols
accept
checkbox
edit
radio
view
back
bookmarks
exit
home
inbox
mark
personal
reload
Set D has additional 335. … 518. and 700. … 828.
Set F is the 2012 adoption of a common Japanese style based upon NTT Docomo emojis.
Documentation
644 graphics
type D, static
should be animated: 58, 75, 76, 77, 99, 190, 218, 221. 223, 229, 230, 246, 257, 258, 259, 260, 264, 265, 266, 267, 268, 269, 277, 297, 328, 333, 342, 344, 348, 349, 350, 351, 352, 353, 355, 357, 372, 400, 401, 406, 415, 420, 439..452, 454, 455, 456, 460, 463, 466, 468, 470, 484, 490, 493, 714, 739, 751, 753, 769, 777, 778, 779, 780, 782, 783, 785, 786, 787, 788, 789, 790, 791, 792, 800, 801, 803, 813, 814, 819, 820, 821, 822
File names: three-digit number followed by Japanese short description, the latter being dropped for SVGs and PNGs
Source: archive of KDDI au EZfactory

Date: 2003 through 2005, available till 2012
Source: J-Phone epad archive
Original folder name: e
GIF 15 × 15
641 graphics
File names: hexadecimal numbers F340..F7FC
Date: 2004
converted from original GIF files above
GIF 20 × 20
647 graphics
File names: decimal digits 1..828
original folder name: e